From cooking tips to photographs of all things beautiful, Pinterest has much to offer the public at large, and that fact is no more true than when it comes to blogging. Whether you're looking for inspiration and motivation, tips on managing your time, or simply new topic ideas, Pinterest is so full of enthusiastic users that you can be sure that you'll find exactly what you were looking for – along with a few things that you weren't – each and every time that you visit.
Whether you blog for fun, for cash, or for the company you work for, it always helps to make the very most of your time. Be more productive even as you save time by checking out these eight Pinterest boards that increase blogging productivity:
From offering up shortcuts to social media promotion success, to linking to articles that provide the tips and tricks that you need to cut wasteful corners in the name of increased productivity, the Blogging Productivity Pinterest board is a great place to start when it comes to digging in your heels regarding wasted time and really making the most of every moment.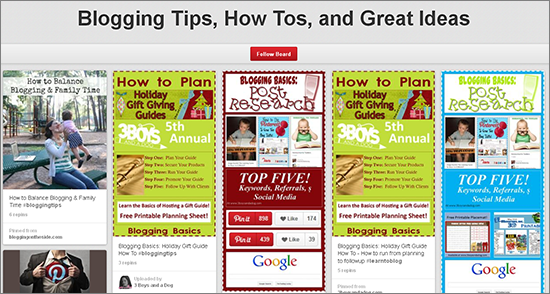 Whether you're looking for tips, tutorials, or the latest great idea for your blog, this is the place to come looking! The Blogging Tips, How-Tos, and Great Ideas board on Pinterest offers up exactly what you'd think from reading its title. Enough said.
The Blogging board, created by popular mom blogger Kelly Miller, is another excellent place to turn to for tips on making the most of your time, a topic that a mother surely knows best. When it comes to juggling responsibilities in order to make the very most of your blogging time, the pins that you'll find here will prove to be a great help. From tips on making those extra blogging jobs a cinch, to inspiration galore for your next written piece, this is an excellent corner of Pinterest to turn for bloggers of all kinds.
Full of productivity tips and tutorials explaining how to make the most of your time spent blogging, this Pinterest board has the feel of a true productivity website like Manifest Connection, offering up lots of tips on being better in every aspect of what you do, both personally and professionally.
With pins with titles like "5 Key Questions to Prioritize Your Work," you know you're in the right place for blogging productivity prowess when you visit the Blogging Pinterest board by the people behind Social Media Today. Besides offering up copious amounts of information on how to make the most of your blogging time, you'll gain insight into the many mediums and tools that will help you to take your endeavors to the next level, most notably social media.
When it comes to being a productive and successful blogger, there's probably no better way to achieve your goals than by studying and mimicking the successful tactics used by others around the web, and the Top Blogs Pinterest Board allows you to do just that. Here you'll find pins from some of the most authoritative websites online, each of them aiming to make you more productive, smarter, and increasingly aware of what you need to do to maximize the time that you spend working on your blog, even if only by providing you with fantastic ideas!
Sometimes, being productive in blogging requires the same mental boost that being productive in any area of life does, and that makes the Mindful Productivity board a great place to bookmark on Pinterest. Every pin on this board focuses on helping you to stay motivated, productive, and in the moment, with tidbits ranging from inspirational quotes to product and writing ideas, making this unique board a helpful place to stop by on your hunt for a general blogging boost.
No matter your niche or your goals, marketing is a necessarily big part of being a successful blogger, but it can also be one of the most time consuming; you're a writer, after all, not an advertiser! Thankfully, the Marketing White Papers Pinterest board is an excellent place to turn when you need the kind of information that will help you to be a better and more efficient marketer, allowing you to free up more time to dedicate to your true craft. You'll find tips on utilizing Reddit for traffic, leveraging Facebook for fans, and much more, helping you to take your blogging audience up a notch with minimal effort.
Editors' Note: we had to include or own Pinterest board!
The Socialable board is filled with tips on not just blogging, but also social media and everything else that can help you succeed in your online business. You'll find Socialable's most popular articles, as well as other pins with blogging and marketing tips.
About the author: Anna Fox is the writer addicted to self-improvement. So all her free time is devoted to searching for new ways to increase her own productivity. Nowadays she is sharing her ideas via Viral Content Buzz - free social media platform for content promotion.