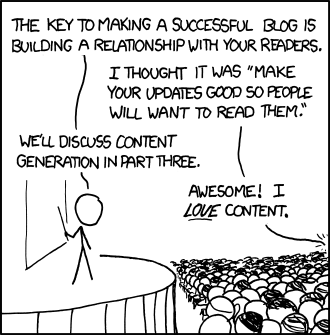 How often are you
blogging
?  How frequently should you be blogging?
This is a question I get asked a lot.  I used to blog 2-3 times a week.  The last 2-3 months I have been working a blogging mentor and she's put me on a blogging challenge of writing a blog post every day.
I must admit I was sceptical initially as I didn't think blogging each day would make a huge difference (apart from the added work of having to write fresh content and of course respond to the comments and promote my blog)  How wrong I was.
Now before you panic and think I'm about to suggest that you should be writing a blog post every day, I'm not going to.  For me, it was the next organic stage for me to increase my traffic, awareness and credibility in my marketplace.  I was already blogging 2-3 times a week and getting around 90,000 visitors a month with 775 optins each month.  But I wanted more.  And I didn't want to pay for it.  But before I sing and dance and clap my hands and rave about how blogging every day has transformed my business it has cost me.  Time – and time after all is money.
I'm a great believer in asking for things (if you don't ask you don't get).  I wanted more traffic, more optins, more sales, more comments and more people talking about my blog.  Did I get it?  You bet I did but I also had to increase my working hours to get it, often working crazy hours replying to all the comments I wanted.
So my point in this blog post is it's all very well saying how often should you blog but it's about so much more than that.  With each blog post you have to promote it, you can have the best SEO in the world but let's face it doesn't happen straight away (plus I get 57% of my traffic from social media) and you will probably want to promote it across your social media networks and other places.  This takes time so if you're blogging every day like I am, you have to promote your posts each day.
It takes time coming up with fresh content, often I have to spend 2-3 hours researching something in order to be able to write an article.  So if you're blogging every day you need to have the time to be able to write the content, promote it and deal with the follow up comments after.
Of course coming up with great content is a challenge in itself.  And there are times when I've sat at the PC (sorry not a MAC user yet) and willed it to inspire me into what to write about.
I feel like I'm being a little ungrateful.  I asked for more traffic – I got it, the last month I've had 155,000 visitors.  I asked for more subscribers and have been overwhelmed with increasing it to 2,500 a month.  I asked for more comments and have been astonished that I've had nearly 3000 comments.  All of this has come from blogging each day and listening to what my readers want and attempting to give it to them, to you.
So yes I'm a happy girl.  I love blogging.  I love how people visit my blog and share my content.  I love how you take the time to tell me the good, bad and ugly about my blog (yes I know a few of you aren't fans of the pop up… )  What I really love more than anything is getting to know you all and connecting via other channels as well.  And of course it's great to be able to monetize my blog – makes the time and effort worthwhile.  Yes blogging is time consuming, but I'm getting quicker at writing my blogs and the promotion is becoming easier as I'm getting a lot of repeat visitors and the SEO from writing every day is catching me up.
So how often should you be blogging?  Well that really does depend on how often you can come up with great content that gives value.  It also depends on how much time you have to promote your blog and respond/engage with your readers.  Before you make a commitment of how often you will be blogging make sure you're consistent, there's nothing worse than seeing a blog post and then nothing for another month or few weeks.
What do you think? How often do you blog?  Do you find blogging time consuming?  Are you making money from your blog?  Please do leave a comment and share:)
Founder
at
Socialable Ltd
Lilach Bullock
is passionate about getting tangible results using social media. Listed in Forbes as one of the top 20 women social media power influencers. She's the co-author of "
Images that Influence
" (Number One in its category on Amazon). Lilach is consulted by journalists and regularly quoted in newspapers on social media related matters, including (Forbes, Social Media Today, Prima Magazine, The Sunday Times and BBC Radio 5 Live ). A keynote speaker at business and marketing seminars. If you want excellent results, more business and better visibility you can can
subscribe to Socialable newsletter here
.
5 crazy ways to get Buyers to your website
Enter your name and email address below now for instant access to the free ebook - 5 Crazy Ways to Get Buyers to your Website!

Subscribe and give yourself an unfair advantage!